Gutter Replacement
Protect your home from water damage with a quality rain gutter system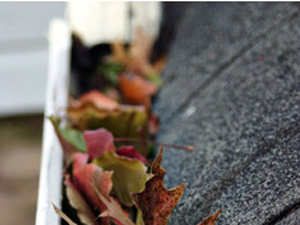 Do your gutters look like this? We can upgrade your gutter system to make clogs and overflow a worry of the past.
When it comes to your rain gutters, you want a gutter system that will stay clog-free and low-maintenance so that you can have peace of mind. That's where the gutter installation experts at North Star Construction come in! We specialize in gutter services and we will ensure that your home stays safe from water damage with rain gutters that will not clog or overflow.
We pride ourselves on our commitment to high-quality workmanship and excellent customer service, which is why we only use proven gutter materials and installation techniques. Contact us today to schedule your gutter replacement estimate!
Gutter protection and gutter guards
If you're ready to make gutter cleaning a chore of the past, a gutter guard system is the answer! The right kind of gutter protection will keep out leaves, needles, dirt, and other debris while still allowing the water to drain effectively.
Upgrade to a new gutter installation or replacement
Is it time to replace your current gutter system? Or are you looking to install brand new gutters on your property? The experienced gutter specialists at North Star Construction have durable gutter options to match your home's exterior appearance. A gutter replacement installed by North Star Construction will last for years to come with minimum maintenance on your part and a workmanship warranty.
Looking for a price? Get a no cost, no obligation free estimate.